WELCOME to week 1 in your TO BE successful Coaching and Mentoring Program
To help you get into the program I have a few surprises for you.
In this first week you will get 2 audio lessons and the Success Cycle workbook. Use both or whatever works better for you as the exercise are the same in the audio as in the workbook. You might want to print the workbook because there are several pages for you to write on. and you might not want to wait until you found a nice journal. But you will need a journal for the duration of the program and I suggest you get one now.
Please, do not get a schock as to the amount of content this week. The first week has more then most weeks because I know from past  experience that you are all fired up now and ready to go and I do not want to slow your progress, on the contrary, I want to speed it up.
If you have any questions please post them right here on this page so I can answer them in the appropriate week. This page is private and it will be good to share because other members might have similar questions or might have ideas how  to solve the issues that might arise during the program.
Here is your download link for week 1: Just click on the symbol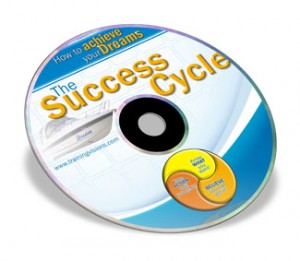 Week 1 – How to make sure you are moving towards the right goal!